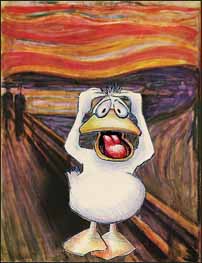 Don't Panic!
Take a few deep breaths and relax...
Yes, there certainly is a lot to learn about the Internet, the World Wide Web, and all that other stuff. The good news is that you don't have to learn it all at once, and that the Help Web will be here for reference in case you forget something.
As for the sense of panic you may be feeling right now, there are a few possible causes and solutions. Let's see if we can find the help you need...
Are You Lost?
If you've lost your way within our site, try the Site Guide for an overview of the topics covered on the Help Web.
If you're looking for help on a particular topic, try searching our Help Web by Keyword:
Feeling Stressed?
Maybe there is a physical reason for your stress. Are you eating well? Have you been getting enough sleep? Are you getting enough exercise? Have you called your mother lately? Try this Stress Busters page for tips on reducing stress.
Maybe You Just Need A Good Laugh...
Sometimes we all need a humor break. Take a little time away from your studies, and read the latest jokes at the archives of the newsgroup rec.humor.funny.
At some point during your visit, please be sure to read our Disclaimer and Copyright Information.
E-mail | Web | FTP | News | Common Concerns | History & Jargon | Other Resources | Panic Button | Site Guide | Credits Contact & Info | Home
© Copyright 2007 NBAE.
This page is archived at http://www.newbritainadulteducation.org/helpweb